This tutorial will help you how to disable Seen status receipt in Facebook and messenger? Please watch this tutorial till the end to avoid any errors.
Facebook developers introduced Seen status assuming as a useful thing for Facebook users. Seen status is useful to some extent that your friend has received messages you sent. But on the other hand, It turned out to be a relationship deal breaker. Deep and close friends unfriended each other because of seen status receipt function in Facebook messenger.
If you are busy or don't want to reply, then You cannot make excuses that you did not read the messages because of seen status receipt. This is why Seen status receipt function is most hated thing in Facebook messenger.
Today I will be sharing a workaround to disable Seen status receipt in Facebook and messenger. This solution will work for those desktop users who use Google Chrome. We will be using a free to use Chrome extension to turn off seen sticker to read someones Facebook messages without them knowing.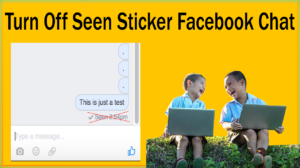 Let's Turn Off Facebook Seen In Google Chrome / Laptops / PCs
The process is very simple and straightforward. All you need to do is Go to Chrome Web Store.
Here you need to search for Unseen for Facebook.
Your search will return with available results. Now install an extension with high ratings.
Click add to Chrome.
Press add extension.
The installation is now completed. You will find a new icon in the upper right corner of Google Chrome.
As you can see that three options are enabled by default and You can enable other options If you need or use the desktop version of Facebook messenger.
Suggested – How To Download Gif Animations From Facebook On PC Google Chrome?

This extension works great and I found it a lightweight extension no hang no crash so far. I do hope you find this short tutorial useful. Please do let me know If you face any issue. I will do my best to solve your problem.
Stay tuned, Stay blessed, And please, do not forget to subscribe, share, like, and comment.