In this Hard Disk Sentinel Pro review, I will share my experience what I found good and bad in Hard Disk Sentinel Pro?
Everyone wish to know about coming trouble So He / She could take precautions against coming trouble to avoid it and this is a genuinely natural aspire. Well, Though this is not possible in daily life but thanks to Hard Disk Sentinel a cool disk monitoring and analysis software, You can take precautions against coming data loss trouble to save your data before it's too late.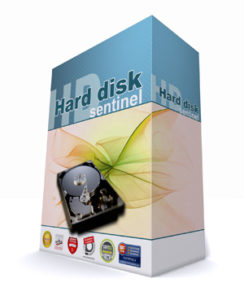 Like me, You must be thinking that Why Do I need a disk monitoring and analysis software? when We can use a backup software to save the data by backing it up.
Where will one keep / store backup copy of the data? Obviously on a separate hard drive, external hard drive, USB pen drive, memory card and other storage devices in addition to online places. Though online places are used but still used or preferred by a very less number of people.
We can't ignore the universal fact that hard disk is an unpredictable hardware in a PC and It can ditch you you any time.
In fact, Hard drive continuously gives warnings to its owner before becoming inaccessible. Either We ignore or most of us cannot understand.
Here Hard Disk Sentinel comes in handy and tells you what and when to do?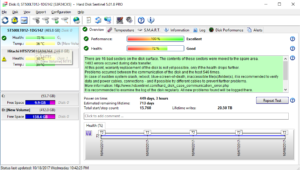 What's More Hard Disk Sentinel Can Do For You?
Frequent but irregular crashes, performance degradations, weird noises and slowness are 4 common warning signs of impending hard drive failure.
In addition, There are many other problems and these problems may remain completely un-noticed until they cause complete data loss. This includes "hard" problems related to the hardware and also problems with the current system, drivers (generally compatibility issues).
As these have no noticeable signs (no performance degradations, no weird noises, no slowness and so) they can remain hidden – until a point when complete data loss occur.
By monitoring and analyzing, Hard Disk Sentinel tells what's going wrong?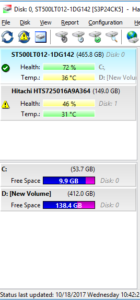 If hardware problems are detected / revealed at the right time, then instead of buying a new hard drive / storage device, You can fix the problem by getting repaired. As well as You can try changing cables (SATA, IDE, ESATA, PATA, ATA etc) / power cables, As per my personal experience, Most of the time it solves the issue and hard drive starts performing normal.
And You will find Hard Disk Sentinel super best at detecting and revealing problems, because Hard Disk Sentinel has the most sensitive disk health rating system which is extremely sensitive to disk problems. This way even a small problem can't be missed.
I Am Not Going To Dig Into Details Of User Interface, But,
After having installed it, when you open it up, At first, Its user interface seems to be very complicated and difficult to understand. But in fact, the user interface is pretty user friendly, You just need some time to understand How things work?
Hard Disk Sentinel classifies hard disk's performance and speed 4 into categories.
1)-Excellent
2)-Good
3)-Acceptable
4)-Warnings (backup / move your data as soon as possible)
Real Time Temperature Monitoring
Temperature is a key factor to maintain hard drive's performance and health Hard Disk Sentinel monitors temperature in real time and provides you with complete details. You can also set custom temperature threshold.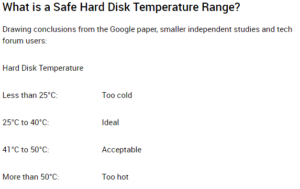 As well as It provides you with complete details about S.M.A.R.T. You can read about SMART at WikiPedia.
One of my favorite things in Hard Disk Sentinel is that This disk monitoring and analysis software predicts estimated remaining lifetime in addition to power on time and total start / stop count.
You can get more information and help to fix potential problems conducting a surface test, random seek test and / or hard disk test.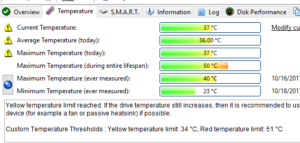 What Can Hard Disk Sentinel Do For USB Pendrives, Memory Cards, Mobile Phones, Tablets, Ramdrives And Others?
Hard Disk Sentinel might not work with USB pendries, memory cards, mobile phones, tablets, ramdrives and other similar devices, but people behind Hard Disk Sentinel have a genuine reason.
Generally, only hard disks and SSD devices provide self-monitoring (SMART) report and thus health, performance and temperature information.
In general, pendrives (except some special models like Sandisk Extreme), memory cards (except industrial micro SD card), mobile phones, tablets, ramdrives and other similar devices do not support this, that's why only limited information (device name, capacity and basic features) are available.
Those special devices are fully supported and their status information could be
detected and displayed by Hard Disk Sentinel of course.
Most other pendrives / memory cards do not support this kind of detection.
You can use surface test and random seek test but no performance, health and temperature details are provided.
Feature Rich Built In Backup Utility (Manual, Automatic / Schedule. Panic Backup Options)
If you use Hard Disk Sentinel Pro, then You don't need to have a separate / additional backup software. This sumptuous piece of software also has a built in and feature rich backup tool / option to backup your data.
Built in Backup tool has all the features you may expect in a premium and professional backup software. In addition to manual backup, Hard Disk Sentinel Pro has a schedule option through which you can schedule automatic backups.
As well as Panic backup (backup upon failure or problem) option is also at your disposal. (This function is available in Hard Disk Sentinel professional and enterprise versions).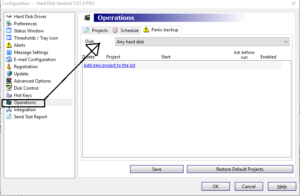 Final Words
I installed Hard Disk Sentinel on 3 (Windows 7 and Windows 10) PCs with antivirus programs Avira, AVG, Bitdefender and in Virtualbox (Windows 7) with 360 Total Security which is notorious for flagging programs as a virus / malware / unsafe programs, even sometimes reputable programs.
While installing and using Hard Disk Sentinel, I did not get any warnings from these installed antivirus programs. (It's still installed on my main Laptop running Windows 10)
Hard Disk Sentinel is a truly lightweight piece of software. I have seen many programs that start on Windows boot, For example, antivirus programs, uTorrent, etc. and cause increase PC boot time, But Hard Disk Sentinel does not do so. As well as It does not slow down overall speed and performance of your PC.
Hard Disk Sentinel can be used in all Microsoft Windows editions. In addition to Microsoft Windows, Hard Disk Sentinel is also designed for Linux operating system users.