How do you store and maintain your DVDs to prevent them from being scratched and damaged? Even if you put all your energy and effort into it, there may still be some unexpected problems.
When your DVD is scratched or broken, it means that you will never be able to watch them again. In addition, DVDs take up a lot of physical space, and it is inconvenient to carry them or store them.
Recommended – 5 Best And Free Epub Readers 
In order to avoid these unnecessary troubles, It is recommended that you digitize your favorite DVD and save a copy on the device. In this way, you can save space and store the DVD permanently. More importantly, no matter when and where you want to enjoy a DVD, you can achieve this goal without a DVD player.
Of course, digital DVD needs professional tools to provide efficient and fast help. Among the many software, WonderFox DVD Ripper Pro is the most recommended piece of software, Which can helps you digitize all types of DVDs in 5 to 10 minutes and save them on mainstream and popular digital devices in more than 300 video formats.
How to digitize DVDs with WonderFox DVD Ripper Pro?
Its interface is intuitive and user-friendly; you can easily find everything you need within few seconds even if you are a novice. Moreover, you don't need to spend too much time to learn and study how to use it properly. The software can digitize your DVD in simple clicks.
Step 1: Install the software and insert the driver
Download the software installation package from the official website and successfully install it on your computer according to the steps, and then insert your CD-ROM drive on the computer.
Step 2: Open the software and select the source to load your DVD
Double-click the icon to open the software and select one of the three sources of the interface to import DVD.
Step 3: Choose the output format
As we mentioned earlier, WonderFox DVD Ripper Pro supports more than 300 output formats. You can find them by clicking on the upper right corner of the software interface, MKV, MOV, VOB, M4V, MPG, MP4, AVI, WMV, 3GP, MTS, etc.
Step 4: Start the digitization process
Here is the last step, please click the "Run" button to digitize your DVD.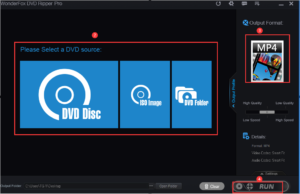 Other features of WonderFox DVD Ripper Pro
• Convert DVD to digital devices like smartphones, TVs, tablets, desktops, laptops, handsets, etc.
• Intelligently find the main movie from 99 titles.
• Copy DVD Disc to DVD Folder and ISO Image.
• Multiple ways to edit your DVD. (Watermark, merge, cut, clip, crop, rotate, trim, add special effect, etc.)
• Add subtitles to DVDs.
• Detach audio files from DVD and save as separate copies.
Pros
• Fast ripping speed.
• Without any quality loss in the output file.
• Easy to use.
• The higher recognition rate than the previous version helps to quickly
• Detect all the main movies.
• Various output devices and formats.
Cons
• Lack of multilingual interface.
Recommended – Free Best MKV Player For Windows
Final words
Digitizing DVDs has many benefits that you can enjoy, such as freeing up space at home, avoiding the risk of DVDs being lost or scratched, and reviewing the contents of DVDs anytime, anywhere. I hope that the program and method in this article can help you a lot.
You only need to download one tool to solve the problems of converting DVD, editing DVD, backing up DVD, etc. at the same time. And it can also easily deal with various types of DVDs, homemade DVDs, 99-title DVDs, DVD movies, TV shows, TV series, fitness videos, etc. Nonetheless, we recommend that you use WonderFox DVD Ripper Pro reasonably in compliance with local laws.