The hard drive in your PC, on which you store sensitive, important, and private data, could be misused against you, and you might become a victim of identity theft.
You cannot satisfy yourself by saying that I've deleted all data and I have emptied my recycle bin or formatted the entire hard drive / USB / memory card as well.
However, Believe me, in reality! Nothing changes. It is still possible to recover your data with data recovery software.
You must be wondering, how is this possible?
This can happen. There is no need to be an expert in data recovery in order to accomplish this. The process of recovering data has become way easier as well as free of charge.
There are a lot of data recovery software options available both free and for a fee. An advantage of available data recovery programs is their ease of use.
In today's world, data recovery programs are pretty easy to use because they feature a user-friendly interface.
In this regard, Computer and data recovery experts recommend wiping, deleting, and / or securely destroying your hard drive's data before selling your PC with a hard drive or giving away hard disks, USBs, or memory cards for any reason.
How Do I Permanently Delete Deleted Files?
All right! I am aware of the seriousness of the situation. What Can Be Done To Resolve This Problem?
It is possible to recover lost data using data recovery software, but fortunately, there are several hard disk wipe and data shredder programs out there that make it almost impossible for data recovery software to recover data from internal and external hard disks, memory cards, USB pen drives, and other storage devices.
Use Macrorit Disk Partition Wiper
The Macrorit Disk Partition Wiper is an available hard drive wipe and data shredder software that can be used to wipe a storage device with ease and without the help of an expert.
In my experience, disk management softwares have complicated user interfaces, and one mistake can cause everything to fail, and you may lose all your data.
My own experience has taught me this. My hard drive has been destroyed several times while I tested disk management software. However, its user-friendly interface allows it to be easily operated.
On my personal laptop, I have used Macrorit Disk Partition Wiper Expert and I am impressed with its ease of use as well as its safety.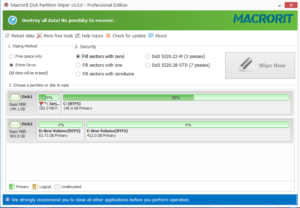 What You Can Do With Macrorit Disk Partition Wiper?
You can completely wipe private or important data from internal and external hard disks (disk drive volumes or disk partitions), USB pen drives, SD memory cards, and other storage devices. And the best thing, Permanently.
I wiped a partition for testing purposes and then used two renowned data recovery softwares to recover data and both softwares failed to recover.
Suggested – 7 Best Free Data Recovery Software 
This disk wiper tool supports the most used and popular file systems, FAT16/32, NTFS, Ext2/3/4, Apple HFS+, etc.
Right now, I am using Macrorit Disk Partition Wiper on a laptop running Windows 11. But It can also be used on Windows 10, Windows 7, Windows 8 / 8.1, Windows Vista, and Windows Server 2003/2008/2012.
How Much Time Macrorit Disk Partition Wiper Takes To Completely And Securely Delete Data?
In my personal test, It took 24 minutes to wipe a partition (59GB).
Is Macrorit Disk Partition Wiper Free?
Macrorit Disk Partition Wiper is available in freeware and paid versions. The free version has a limited number of features, but the Freeware version is enough for home or personal use.
But If your requirements are more than personal, then Macrorit Disk Partition Wiper professional is for you with additional features.
Professional edition lets you wipe a disk or a separate partition, USB drive, external hard drive, etc.
Final Words
I like two things in the Macrorit Disk Partition Wiper. It is easy to use and safe to use. Most disk management programs require a restart for changes to take effect.
After restart, You may find that everything is deleted/vanished or data / hard drive becomes inaccessible. There is no such case in it. You don't need to restart your PC and you are given crystal clear warnings before wiping.