There was a time when our home and computers were considered incomplete without a DVD player. Now Things are becoming portable thanks to laptops, Tablet PCs and smartphones. As you know Tablet PCs, smartphones and even some laptops do not come with a DVD player.
What to do? If one has a collection of DVD disks and wants to watch on Laptops, Notebooks, Chromebooks, TVs, iPhone, iPod, iPad, Windows, Android powered phones and Tablet PCs.
How To Digitize, Backup And Convert DVD Collection To Other Video Formats?
There is a solution, You need three things, A Windows or Mac OS powered PC, an internal or external USB DVD player and DVD ripping or DVD conversion software. With the help of these three things, We can digitize, backup and preserve DVD collection. As well as You can get rid of DVD players forever.
If you have a PC and DVD player and looking for a DVD ripping software, then We can recommend you to use MacX DVD Ripper Pro. We can call it a DVD converter, DVD ripper, DVD digitizer tool, DVD backup tool, and the best thing is that this useful piece of software is designed for the users of two most used and famous operating systems, Microsoft Windows and Mac OS.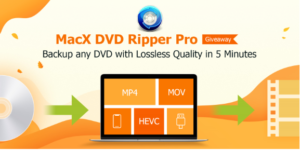 MacX DVD Ripper Pro is very easy to download and install and It features an easy to use and user friendly interface, Which is easy to navigate for both beginner and veteran users.
All you need to do is put your desired DVD into DVD player and open MacX DVD Ripper Pro.
On the top right side, There is an option with DVD disk icon to import DVD.
Click to import from the DVD player.
As you import DVD disk, It offers over 370+ preset profiles to make it easy to rip or convert any DVD media for iOS, Android smartphones, Tablet PCs, Android powered TVs, Mac OS, Linux, Windows and other devices. In short words, You can rip or convert a DVD content for nearly all devices without playing with complicated settings. You can still modify resolution size, bitrate and other things If you are an expert video converter.
You can convert DVD videos to MP4, MKV, AVI and other popular and most formats. In short, MacX DVD Ripper Pro supports nearly all available audio/video output and input formats. All the procedure is done without quality loss.
MacX DVD Ripper Pro can also be used as a DVD backup tool. You are provided with two DVD backup options. You can either save and copy DVD with selected audio/video tracks as a single MPG video file or backup full title including audio/video tracks/subtitles. We recommend to go for first one.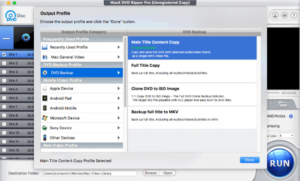 A bit about another worth mentioning feature, MacX DVD Ripper Pro helps its users bypass or remove all types of copy protections, For example, DVD CSS, region code, RCE, Sony ArccOS, UOPs, Disney X-project DRM and others.
Before you rip/convert a DVD, Four video editing features are at your disposal. You can crop, expand, trim the videos and subtitles before converting DVD to other video formats. In addition, You can join and combine multiple movie titles into a single video file.
MacX DVD Ripper Pro is also capable of extracting audio from a DVD video. Audio can be extracted as MP3, AAC, Wave and other popular audio formats.
MacX DVD Ripper Pro also lets capture screenshot of the DVD. It saves captured screenshots as PNG image format.
This useful application can be used to clone DVD to ISO image at 1:1 ratio.
MacX DVD Ripper Pro enables you extract content from DVD ISO image. You can use available presets to convert DVD ISO image file to MP4, AVI, MKV, MPEG and other video formats to play on PCs, TVs, iOS, Android smartphones and Tablet PCs. It supports DVD image, ISO and CDR file types.
Final Words
While installing MacX DVD Ripper Pro, I was expecting that It can convert general videos in addition to DVDs. I did not find any option to import other videos to be converted.
Well, Technically This is not a fault. It is not designed for this purpose. This is a DVD ripper/converter.
I used it on a Windows 10 PC, During my test, I found it very lightweight. It did not hang or crash. It did not slow down my PC. I was able to use other programs and browse the internet when It was busy ripping and converting.
If You've used MacX DVD Ripper Pro then Please do share What you found good and bad in this software? You may use the comment section to share your reviews, precious suggestions and questions If you got any.