Today's tutorial will teach you How to download and install Microsoft Teams on Microsoft Windows? Although these instructions can be followed for Windows 8 and Windows 10, But This tutorial has been specifically made for the users of Windows 7.
What Is Microsoft Teams?
For those, Who are not aware of Microsoft Teams, Microsoft Teams is a truly useful communication and collaboration service. This Microsoft platform supports Windows, Mac, Linux, iOS and Android. Its web app is available as well.
Microsoft Teams allows chat, audio/video meetings, file storage and other things. You can use Microsoft office If You have got the office 365 subscription.
Microsoft Teams is provided with free and paid plans. In free subscription, 1GB per user, and 10GB of shared storage is provided. Up to 250 users can be added to audio/video conferencing meetings.
In paid subscription plan, In addition to other benefits, You get 1TB of storage and audio/video meetings with unlimited users.
Watch Video Tutorial

Microsoft Teams System Requirements
Before We proceed any further, Let's have a look at the system requirements for Microsoft Teams.
Desktop client or software of Microsoft Teams cannot be used in 32 Bit computer. It only supports 64 Bit computer.
How To Know If Your Computer Is 32 or 64 Bit?
To determine If Your Computer is 32-Bit or 64-Bit, Go to start menu and type msinfo32 in the search box.
Click on msinfo32 to open it up. (The name of msinfo32 is System Information in Windows 10/8/8.1)
Here you find What is the system type of your device. As you can see This machine is a 64bit PC and compatible with Microsoft Teams.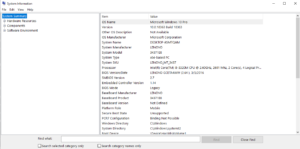 Its desktop software works smoothly on a PC with 2GB of Ram and average system resources.
Its desktop software requires Microsoft .NET Framework 4.5 CLR or later, Visual C++ Redistributable, Dynamic Link Library and other components. It will not work If these components are missing from your computer.
Though Microsoft Teams installs all required components itself. But sometimes, You have to install manually If Your copy of Windows is missing any of required components.
You can not use it without an account. You need to have a Hotmail or Outlook account to use Microsoft Teams.
Download Microsoft Teams
Go to the download page.
Click download for desktop.
Click on Download Teams.
After download completes, Install Microsoft Teams.
Sign into your account If you have already an account. Otherwise Go to SignUp page and create a new account by clicking on Sign up for free. We'll use an existing account.
Microsoft Teams is installed and now ready to use. You can now go for next steps to get started.
We're quite hopeful today's tutorial has been useful and informative to you. You've managed to download and install Microsoft Teams.
Recommended – How To Download Windows 10 Updates Offline And Install Manually Updates?
If We could not manage to explain anything properly, Do let us know by using the comment section. We will try best to help you resolve your issues.
The comment section can also be used for questions, feedback and precious suggestion.
Final Words
Simple Tutorials is Soft Suggester's official YouTube channel. Atif and other members of Soft Suggester team make Windows How-To Tutorials and compile top-best lists of Windows software and video video reviews after testing third party programs for Windows.