This short guide will help you disable annoying push notifications in Google Chrome on a Windows-powered PC. You can follow the given instructions for both latest and old versions of Google Chrome.
What Is The Purpose Of Chrome Push Notifications?
Push notifications feature is itself a quite useful feature of modern web browsers.
If you have turned on push notifications, Your favorite websites send you a notification via web browsers of your choice when new content is added.
If you are a frequent or regular user of Gmail or any other email service and you don't like to use a desktop client, Turn on the push notification for email services of your choice to get a notification, when an email arrives without having to manually check inbox.
Push notifications feature can be used for the same purpose for Facebook, Twitter, YouTube, and other social media websites.
Suggested – Free, Best And Safe IDM Alternatives 
Why One Would Want To Turn Off/Block Chrome Notifications?
This useful feature becomes an annoying and embarrassing thing If you turn on push notifications for websites with obscene and misleading content and advertisements.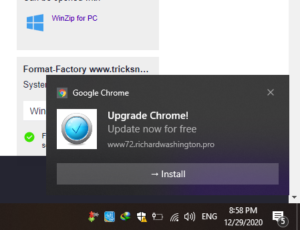 You are continuously bombarded with obscene ads via push notifications after every 10 seconds.
Watch Video Tutorial

How To Stop/Block/Turn Off Notifications In Chrome?
To disable or block Chrome notification, You will have to dig into Google Chrome settings.
Go to Chrome menu by clicking on the three dots next to your profile picture.
Click on Settings. You can also access Chrome settings by typing chrome://settings into the address bar.
After getting into the settings, Search for Privacy and security and click on it.
Under Privacy and security section, Click on Site settings menu.
In this section, You will find the list of websites you have turned notifications for.
Find and click on the website you want to get rid of notifications.
You have two options, you can get rid of notifications by pressing Reset Permissions. It will reset to Chrome default settings.
You can also disable only notifications from here.
Exit Chrome settings and now you will not get any notifications.
What Do I Do If I Still Get Annoying Notifications?
If you still get notifications, Scan your copy of Google Chrome with AdwCleaner. This free to use tiny utility cleans up Chrome and other web browsers from Adware, malware and other harmful things.
Team Soft Sugfester / Simple Tutorials hope you find this short tutorial useful and informative.
Ask us via the comment section, If We could not explain any thing properly. We will try best to help you resolve your problem.
The comment section can also be used for suggestions and feedback.