This useful piece of software offers many more options that are hard to describe in a single article. A detailed guide to working with VideoProc is published on the VideoProc official website.
Why Video Converters Are Still In Demand?
Before Android smartphones and Google Play Store, A video converter was considered a must-have piece of software for a multimedia/feature phone user. But Android developers now have made everything easier.
At first glance, Existence of media player apps, video conversion programs seems useless. But still there are a plethora of uses of a video conversion software for personal and professional purposes.
There are many devices that do not support higher video resolutions, for instance. In order to make high resolution videos compatible with low end devices, you can reduce the resolution size.
You can convert videos not compatible with old TVs, TV boxes, mobile phones and other devices with fixed media players.
And here Video converters help you reduce the video resolution, framerate, bitrate and other things.
And for many other purposes.
Modern people are increasingly handling video – legacy collections of movies and music on physical DVDs have given way to a huge stream of video content that comes from smartphones, digital cameras, web portals such as YouTube, streaming services and social networks.
As people become increasingly accustomed to watching video on different devices and sharing it with their friends and family, they need software tools that can convert and process video.
Suggested – Wonderfox HD Video Converter Factory Pro Review
Use VideoProc To Convert Videos And Digitize DVD Collection
There are, of course, different products on the market that perform one or more of the video processing functions, and VideoProc is one of them.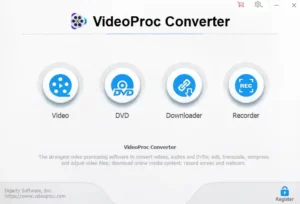 VideoProc includes all the necessary features for the user, such as editing, resizing, adjusting, encoding and decoding, as well as downloading and recording from various sources.
When we used VideoProc, we thought It would be a conventional video converter. We used it for 10 minutes and we started liking it.
VideoProc is more than a video converter. VideoProc is not just a software to convert videos.
It offers 4 tools in single software.
There are video processing / converters, DVD tools, video downloaders, screen and webcam recorders included.
The users of old TV, MP4 player, media player, feature phones and other devices face an inability to play MKV, FLV and AVI files.
Additionally, iPhone users take a lot of time to upload large 4K, HD videos to YouTube, and often after uploading quality is deteriorating.
In all of these cases, as with other issues not mentioned, VideoProc can be of great benefit to the recorder owners – not only with their basic video editing capabilities such as cropping, rotating, altering the aspect ratio, merging, reversing, and implementing effects, especially large HD / 4K files, but also with professional features like noise reduction, stabilisation, animation, adding subtitles, colour settings, speed, audio and other parameters.
Video Processor / Converter
The very first utility in VideoProc is video converter to convert audios/videos between different audio/video formats.
This useful application is also capable of transcoding 4K UHD videos at fully GPU accelerated speed.
In addition to straightforward format conversion, the program also includes an additional video editing feature which lets you add/remove dual audios, add/delete subtitles, trim, join and rotate video content, extract audio tracks without quality loss.
A Few Worth Mentioning Features Of Video Processing Tool
Video to Gif converter.
3D stereoscopic video to 2D video converter.
Fisheye lens
Fisheye lens distortion correction feature
Screenshot taker
Video stabiliser and denoice features to reduce disturbing noise for GoPro users.
It comes with level-3 hardware acceleration through which You can process/edit and convert videos with 47X
faster speed and lowest CPU usage.
DVD Tool
DVD tool is a best fit for those Who have a DVD collection and are looking for ways to digitize the DVD collection.
In other words, You can copy / backup / transfer DVDs to a PC, external hard drives, USB, memory cards and other storage devices.
DVDs can be converted and edited to fit old TVs, iPhone, iPad, Android, YouTube, and for other purposes.
It also can be used as a DVD backup tool to backup the main title and entire DVD content.
A Few Worth Mentioning Features Of DVD Tool
You can use all available video editing features to edit DVD footage.
You can merge multiple DVD chapters / clips into one video file.
You can convert DVD to MP3, OGG, AAC and other audio formats
You can clone the DVD to ISO and video-ts folder.
You can add/remove closed captioning and subtitles.
Suggested – MacX MediaTrans Review
Video Grabber
VideoProc features a video grabber which we found much better and feature rich than the other available video saver.
Its built-in video grabber is capable of downloading videos from nearly all video sharing websites.
Videos can be downloaded in all available resolutions ranging from 144P to 1080P and 4K resolutions.
You can save a whole channel and playlist to your PC at once with the help of this useful feature.
For testing purposes, We tried it on 6 famous and widely visited video sharing websites, YouTube, DailyMotion, Metacafe, Facebook, Vimeo and LiveLeak.
It managed to download a single video from all websites.
It successfully downloaded whole channels and playlists from YouTub, DailyMotion and Vimeo at once. But It could not download multiple videos from Facebook and Metacafe.
As well as, It easily downloaded public Facebook videos, But It could not download private Facebook videos.
In addition, It can be used as a YouTube/video to MP3 Converter.
In other words, You can extract or convert a video to MP3 and other audio formats without a video to audio converter.
All you need to do is Give video Url to it and download the audio file.
We tried the Add music option on Soundcloud and It managed to download audio tracks.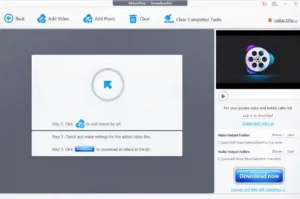 Screen And Webcam Recorder
Last utility of VideoProc is a screen recorder with 3 recording modes, Screen, Webcam and Screen and Webcam recorder.
Built in video recorder can be used to record Skype, Facebook messenger audio/video calls, conferences, gameplay videos, record videos to report bugs or to request technical support, create how-to guides or demonstrations of software and apps, training videos and for numerous other purposes.
Screen recorder is designed to record anything happening on your computer screen (full screen or a certain area).
It also lets you record webcam and other connected external devices such as a DSLR camera, external webcam etc.
If you wish, You can record the screen and webcam at the same time.
It has the ability to record videos with microphone and system audio.
Another useful thing about the program is that You can save/export recorded videos in FLV, MP4, MKV and TS video formats which means You can play recorded videos in any media player and edit in any other video editors.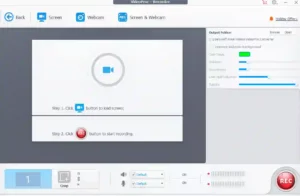 Download VideoProc
VideoProc is available in premium and free versions.
Its free version can be downloaded from the VideoProc website.
Final Words
We used it on a Windows 11 device, During the test on Windows 11, All tools worked very well. It did not crash or hang.
If You've used VideoProc then Please do share What you found good and bad in this software?
You can use the comment section to share your reviews, precious suggestions and questions If you got any.