This tutorial will teach you How to download Windows 7 ISO image file to create a bootable USB or burn it to DVD for clean install Windows 7?
This article consists of an unofficial but safe method to download the ISO image file of Windows 7 as Microsoft has deleted Windows 7 from servers
We will be sharing a free-to-use and tiny utility to download Windows 7 ISO image files from the Microsoft official website for free and without Windows 7 product key.
We urge you to read this tutorial till the end to avoid any inconvenience and time-wasting.
Suggested – Buy cheap Windows 7 product key from here and upgrade to Windows 10 for free, More details here
Let's get started with a warning
Is Pirated Windows 7 safe to use?
You must be thinking. Why should download Windows 7 only from Microsoft? If We can download the Windows 7 ISO from any website offering pirated content.
The answer is quite straightforward. Everything you download via a website offering pirated content, chances are extremely high, You are giving an invitation to hackers to hack you or spy on you.
Most of the data available to download on pirated software download sites contain viruses, spyware, malware, and other security threats.
We've felt a clear difference between a Windows 7 ISO downloaded from Microsoft.com or an original DVD that comes with a new PC and an ISO downloaded from a pirated software download website in terms of speed and performance.
So We would like to suggest you not download Windows 7 ISO from such notorious websites.
Official Way To Download Windows 7 ISO Files
Update – It is not possible to download Windows 7 from Microsoft websites as Microsoft has deleted Windows 7 from servers
If you meet the requirements and you have a valid product key, All you have to do is visit the Microsoft Software Recovery page and enter your product key
Click verify button to verify your product key. After verifying the key.
Microsoft will allow you to download Windows 7 ISO files, So You can create installation media such as DVD or bootable USB drive to install Microsoft Windows 7 on your PC.
Un-Official But Safe Method To Download Windows 7 ISO Files
On a forum, we found a Windows ISO Downloader which is a very tiny program. This free and easy-to-use Windows ISO Downloader helps you download MS Office, Windows 7, 8, 10 and Windows 11 ISO images.
The people at Heidoc.net have made it an easy and time saver utility. Even You can download the ISO image files with Internet download manager and any other download manager If you don't like using the built-in Downloader of your web browser.
Windows ISO Downloader System Requirements
Before We use the utility to download Windows 7 installation files, Keep in mind, You can't use it on Windows XP and Windows 7, It supports Windows 8, Windows 8.1, Windows 11 and Windows 10.
Furthermore, Make sure .NET Framework 4.6.1 and Microsoft Edge Chromium are installed on your PC.
We wasted 4 hours with Internet Explorer 8 and then after some research, we decided to switch to Microsoft Edge Chromium and it worked out.
This is why we highly suggest you install Microsoft Edge Chromium. Otherwise, It will not work.
Update – It may not work on Windows 7 as Chrome, Firefox and other web browsers have ended support for Windows 7. Use Windows 8/8.1/10/11 to download Windows 7.
Download Microsoft Edge Chromium
Click here to download Microsoft Edge Chromium for Windows 7.
Install .Net Framework 4 5
You can follow this guide on Downloading and Installing .Net Framework 4 5 On Windows 7 Offline Installer.
Download Link For Microsoft Windows and Office ISO Download Tool
Download Microsoft Windows and Office ISO Download Tool. Click here to download it. This is a portable program you don't need to install it.
Launch the program
How To Download Windows 7 ISO image From Microsoft Without Product Key For FREE?
You may use it to download other Microsoft products If you need them. The process is pretty the same.
Since We want to download Windows 7 ISO image, therefore, select Windows 7 from the right-hand side (This option now does not work).
Dell still lets its users download Windows 7 from its servers. Select Dell option.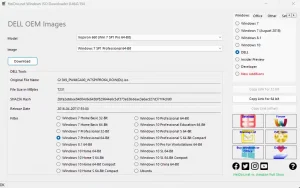 Now select your desired Windows 7 edition from the drop-down menu and click confirm.
Choose any random Dell model according your system type 32 or 64bit.
Choose your preferred language
Select Windows 7 version and the system type. We'll select Windows 7 Professional and We are using a 64-bit computer that's why we are going to choose the 64-bit option to begin download.
Now click Download to begin downloading Windows 7 image file. You can get the download links to download with the Internet download manager or any other downloader.
Buy a Windows 7 key from here to activate your copy of Windows 7
Final Words
Please keep in mind, though this utility is safe to use, but It's not official, this is why It could stop working at any time.
People behind Soft Suggester team hope you manage to download the ISO image of Windows 7.
Please do let us know If you run into any issues. We will try our best to solve your problem.
You may use the comment section to ask questions, share your experience and precious thoughts.